Happy Valentine's Day
Readers:


I just couldn't decided what to do for Valentine's Day. I sat down last night and thought about it, and all I could come up with was everything I didn't want to do: list Valentine movies to watch (St. Valentine's Day Massacre), list Valentine's music to listen to (My Funny Valentine), write about the history of St. Valentine, do an anti-Valentine piece. I even scanned a Valentine a teenaged boy had drawn for me, thinking back to earlier Valentine's.

I decided to do something sentimental and corny. I got out my book of craft papers, some lace doilies and scissors, and I made you some Valentine's:
It isn't the size of your house as such
That matters so much at all.
It's the gentle hand and it's lovi
ng touch,
That make it great or sm
all.
The friends who come and the hour they
Who out of your house depart,
Will judge it not by the style you show,
But rather the size of your he
art.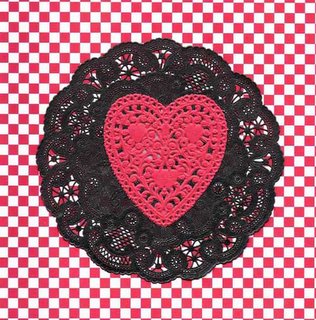 It isn't the size of your head so much,
It isn't the wealth you found.
That will make you happy--it's how you touch
The lives that are all a
round.
For making money is not hard--
To live life well is an art;
How people love you, how they regard,
Is all in the size of your heart.
....or the size of your rack


Now you KNEW I wasn't going to play it straight,
all the way through... didn't you?


Happy Valentine's Day, Everyone.